Funkateers and Funkonaughts... May we have your attention please?
Seminal (and criminally underrated) funk rock / metal band, 24-7 Spyz are back with a brand new 11 track offering.
As the old adage states, "patience is a virtue". This is the first LP The Spyz have released in 13 long years, but the wait was certainly worth it, in this humble journalist's opinion.
In typical "Spyz fashion", the new LP is funk-laden, groove inflected, freak fest which absolutely begs the listener to both cut a serious rug on the dance floor and "headbang" like nobody's business. Such is the nature of 24-7 Spyz. Never one to be pigoenholed, The Spyz have always put a major emphasis on being eclectic and combining myriad sounds into what can arguably be described as a "funk infused groove party".
Without question, one of The Spyz most daring, progressive and strong offferings, this LP is solid from top to bottom.
To select the top tracks would be a tought undertaking, indeed. The album is literally that solid... Devoid of any "filler".
The "Title Track", "The Soundtrack to The Innermost Galaxy" is a unique jam number, imbued with some captivating and engrossing jazz grooves.
The track "Waiting for The Sun"...a reimagined version of a song from guitarist Jimi Hazel's 2002 solo album 21stcenturysouthbronxrockstar...may just be the standout track. It's a funky, groove laced tune very much reminiscent of classic 24-7 Spyz, Kings X, Fishbone and the like.
I'd have to say that my favourite track is "Blind Dreamin". A transcendental, atmospheric, vaguely hypnotic number with some interesting syncopatic drum work courtesty of Philip "Fish" Fisher (of Fishbone fame), it's a great tune to really "chill out" to.
Last but not least, I'd be remiss to not mention "Thank You". A melodic track which really begs to the listener to sing along, it's a definite classic. It also features some epic guitar work courtesty of lead guitarist and founding member, Jimi Hazel, and guitarist Ronny "Head" Draytone.
All in all, "The Soundtrack to The Innermost Galaxy" is a very noteworthy and enjoyable album by a band who (although critically acclaimed) never recieved the commercial success that they deserved.
So, what are you waiting for? Go out and "cop this" formidable LP and give it a spin.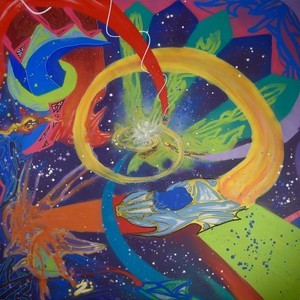 Until next time, it's your boy, Justin saying, "Keep it Groovy, y'all"! Peace and Love!
- Justin Krever