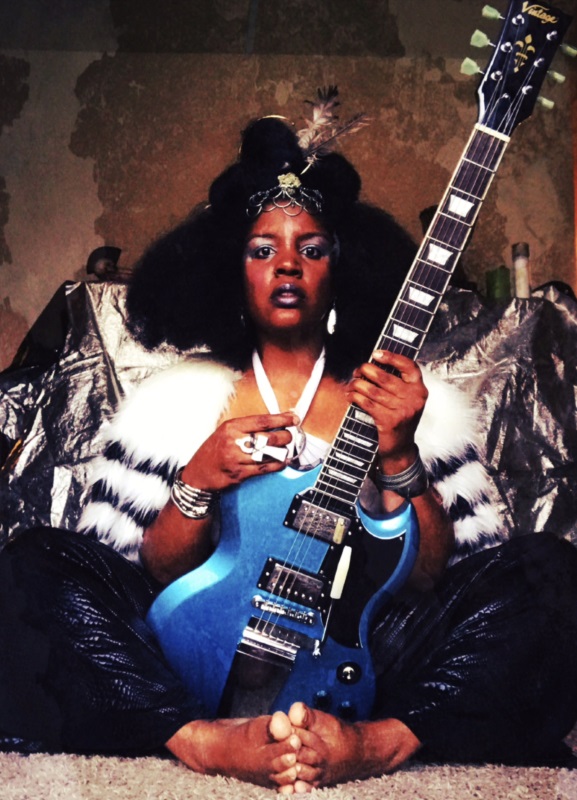 self portrait by Samantha Hollins the GhettoSongBird
BRML Questions for Samantha Hollins aka GhettoSongBird
While I deign to ask/reshash them, many won't to know the answers to following questions:
What inspired your stage name/persona?
How much of your stage name/persona would you consider to be Samantha Hollins and vice versa?
As a little girl from the ghetto, the contrast of gun shots and aggressive arguing outside my window were layered with the echo of songbirds singing on my window ceil. That majestic sound filtered out the negative; giving me hope. As an artist I wanted my music to be that same type of hope for others, especially for the youth coming up in an uncomfortable environment. I called them Ghettosongbird's and somehow I took on that energy.
Samantha Hollins is a quiet, sometimes shy, laid back introvert. GhettoSongBird is my alter ego that is a free spirit on stage. She gets to dress up fiercely and wildly spread her wings once the music starts. Both own pieces of my complex, yet simple soul.
How old where you when you knew you wanted to pursue a career in the arts and music?
At the age of 5, as shy as I was, I sang and danced in my kindergarten school production as an elf. I knew then that entertainment was my world. At the age of 16 I auditioned to be a professional dancer on a local HIP-HOP t.v. show. I was the only dancer with no training that was booked. I knew then even more.
Do you believe that initially teaching yourself to play guitar was more advantageous than having a more traditional student/instructor path?
Onto the less mundane...in some instances more esoteric...questions!!! :)
The guitar chose me. I never grew up wanting to play. I loved the drums more. I had a guitarist early on in my career by the name of Strange that abruptly moved on to form his own band. I never wanted to feel that unknown feeling again, so a black Epiphone guitar drew me in at Guitar Center. I practiced everyday all day by ear until it began to make sense. There is no advantage or disadvantage when you are playing from the soul. Playing by ear allowed me to connect with my inner spirit and communicate with my own six string voice.
You've publicly acknowledged the assistance, advise, and mentoring, of several elder R&B/Black Rock musicians. Would you list a few and tell us what their personal impact was on you and your musical/creative endeavors.

When I connected with Rosa Lee Brooks I was tripping on that fact that she wrote and recorded with the legendary Jimi Hendrix. The two songs they recorded displayed his 1st Rock guitar solo ever recorded. She invited me to perform during one of her shows. Little did I know 4 days would turn into 4 months of being educated about being an entertainer, musician, singer, songwriter and so much more. Our friendship became less about Hendrix and more about a relationship between a phenomenal elder artist and her mentee.
She helped me to record my 1st EP "Alley Of The Earth" with her good friend Kenny Terry. Even though we didn't establish roles in the studio she was definitely the executive producer. Her guidance since 2002 has been just what my artistry needed, especially at the beginning of my career and she's still rockin' in her 70's. That kind of passion is truly inspiring.
Those of us who follow you wish you produced more, but you've made a few videos that are visual art compliments to your music. Do you view this as an extension to the messages of a given song?
I feel like my career thus far is written like an urban legend. The energy is felt, yet unspoken of. I don't define my artistry as in industry, in trends or cliches. Although there is a mystery surrounding the whereabouts of my recorded music, there are years of albums waiting to reveal themselves. As a performing artist I have to force myself to finally give my supporters more than the live experience. I appreciate their support so much since 1999.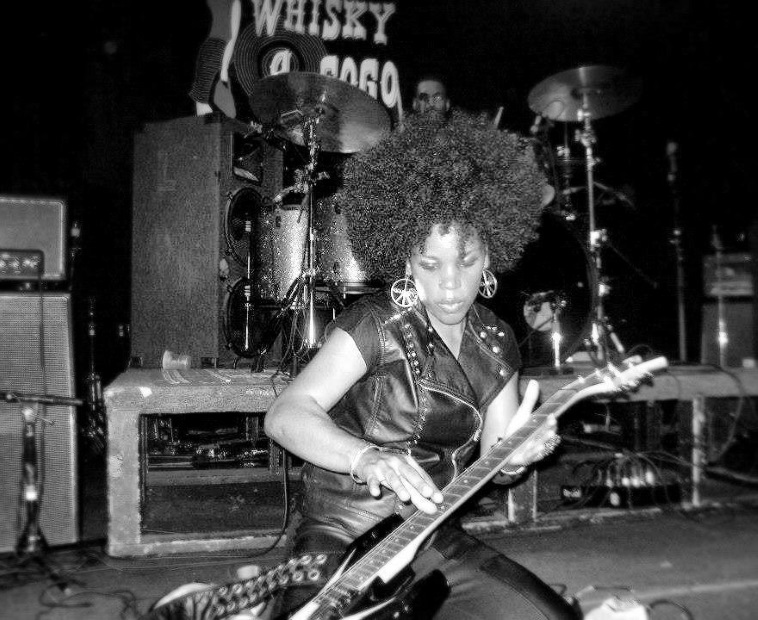 photo By Christie Love At The Whisky A Go-Go In Los Angles, CA (West Hollywood) 2012
Your live performances with the Roxploitation(sic) band are dynamic. Are you considering recording
live tracks...if not an outright live album...when you make your long form recording(s)?
Thank you so much for checking out the videos I've been posting. I am getting better at sharing my Her-story. Yes! It's so long overdue to make my music available in many forms. I have an abundance of plans of how I will release my music and the narrative of my Rock-n-Roll experience over the years.
On that note, let's segue into your future plans for recording. Is there any music being released in the coming months? If not, when can we expect long form recordings from you?
This year I will face the studio and start recording 20 years worth of music over the next chapter of my career.
As an unabashed Black Rock musician, you advocate for more Black women and girls to stake claims to the legacies of the music. How important do you believe it is to foster the future generations of Black Rock musicians...of any gender...in the age of information technology? Moreover, what stratagems do you believe should be used to reach those demographics on a larger scale?
There has to be a bridge of communication built between the elders and the generation thereafter in the Black Rock community. Many of our legends are still living and still breathing life into this music we love. We must not forget the struggle they endured to be heard. You can't just go calling yourself the "Queen Of Rock" when Tina Turner in still living and you can't go call yourself the "King Of Rock" when Little Richard is still alive. The ultimate respect and acknowledgment of our elders is extremely vital to our longevity in this business.
We also need their support to navigate this industry without losing the foundation of the authentic, gutter Blues chords that ignited Rock-n-Roll. Watering it down to fit in or get the deal takes away from what Rosetta Tharpe, Jimi Hendrix and so many other fought so hard to manifest.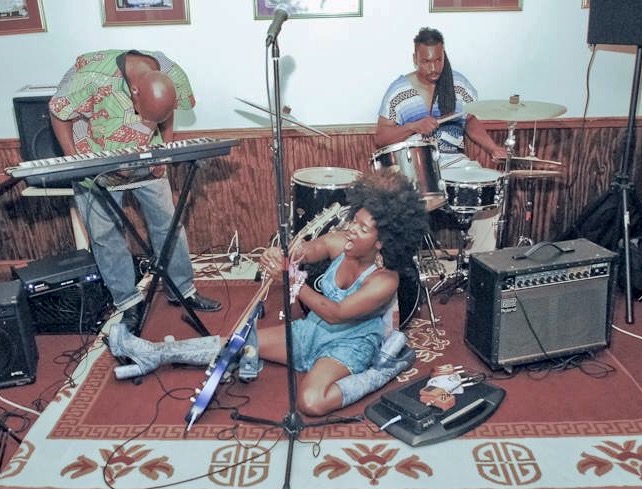 photo By Richard Rykard in Philadelphia 2013
It's evident that your family is an integral part of your music. Do you envision your children joining you as they mature(ala Mother's Finest)?
My children are at every rehearsal,, so technically they are already initiated in the culture of the family business. When they are ready they will become visible to the audience that they frequently sit in.
Before we close, I'd like you to list 2-4 Black Rock musicians/bands from each decade, starting in the
1940's onto the 2010's, that you think everyone should know.
1940- Rosetta Tharpe and Odetta Holmes
1950- Lady Bo (Peggy Jones or Peggy Malone) and Lavern Baker
1960- Marsha Hunt, The Chamber Brothers, Black Merda, Betty Davis,The Funkees (Nigeria) and Rosa Lee Brooks
1970- Pure Hell, Mother's Finest, The Lijadu Sisters (Africa), Edwin BirdSong, Black Death, Witch (Zambia) Ofo And The Black Companies (Nigeria), Joan Armatrading (UK), Fishbone and Bad Brains
1980- Sound Barrier, Poly Styrene, 24/7 Spyz and Freda Renté, Apollo International Band Of Ghana and Living Colour
1990- Honeychild Coleman, Kina, Tasmin Archer and Starr Cullars
2000- Tamar Kali, Phil Moore Brown, Militia Vox and Malina Moye


Wow! I know I wrote more than you asked for. I can go on and on upon this subject. Some of these names are more known and some don't get mentioned as much as they should. I hold them in high regard to helping to shape shift rock music throughout each decade. They kept the sound fresh and alive. My era is late 90's-present.


Finally, what all should we expect to see and hear from Samantha Hollins and GhettoSongBird in 2019? If there's anything you feel compelled to share/impart about film, music, art, politics, science, or life in general, please do.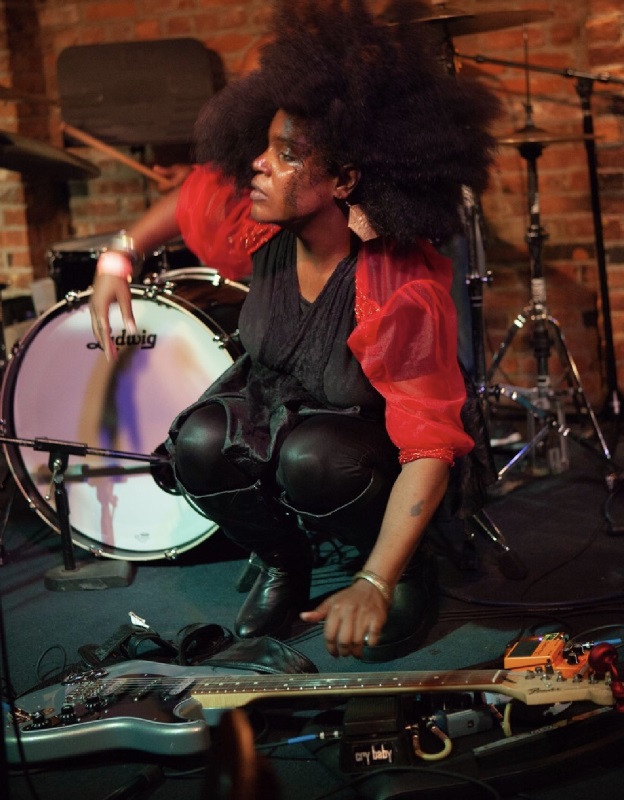 I've been rockin' since the late 90's. I love touring the most. I will be back on the road this year. Instead of just doing shows at this point in my career my goal is to educate as well. I, along with Botswana band Rokara, will be launching our Culture Exchange Rock Tour May in Botswana at Overthrust 10th Anniversary Winter Mania Festival. They will join me June 8th in my hometown Philadelphia where I will be curating "The Diaspora Rock Exhibition" at the African American Museum Of Philadelphia (more dates TBA). The Exhibition will also include a short film Im working on. I can't say much on that right now, but some prominent rock legends are very supportive. In July I am slated to conduct a master class in at Kenya's Guitar Festival. Helping to honor and reclaim our space in Rock history-herstory is my focus this year.

photo by Aricka M. Davis NYC 2018

GhettoSongBird on FB
BRML
BRML Articles
BRML on FB
© 2019

BRML